by William on 14/06/18 at 10:15 pm
If you want to make your event unforgettable, serve your guests some of the most famous of cocktails. Some of these cocktails were made for the first time more than a century ago and they remain the favorites for many people. These cocktails have whetted and tantalized the palates of drinkers for generations.
Here are some of the most famous of cocktails: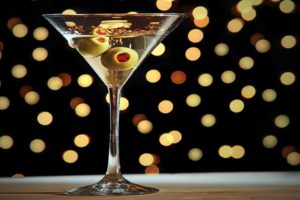 Dry Martini
When tasting fancy drinks, dry martini is the first cocktail that most people think about. Although many 'up' drinks are mostly called martinis, they come with different flavors and colors. However, dry martini is the original martini. It comprises of dry vermouth and gin. This cocktail comes with bitters dash and lemon or olive twist garnish.
Manhattan
This cocktail comprises of whisky. Different whiskeys are used to make Manhattan but rye whisky was traditionally used to prepare it. However, rye whiskey production fell off during the 20th century. As such, other whiskeys are now used to prepare this cocktail including the Canadian whiskey.
Old-Fashioned
This is another cocktail that enables drinkers to enjoy whiskey in a different way. Old-Fashioned cocktail introduced the mudding bartending technique. That's because its preparation is more of a process than ingredients. Bartender starts by muddling bitters, sugar, and orange slice before adding bourbon and ice after which they stir to mix the ingredients.
Brandy Cocktail
This is another example of original cocktails. It comprises of orange liqueur, spirit, and bitters. Essentially, this cocktail was preferred by many people for containing stimulating liquor as well as spirits, sugar, bitters, and waters.
Margarita
Almost everybody has heard about this cocktail. Just like Martini, modern margarita comes in different flavors and colors. But, classic margarita comprised of tequila, lime juice, and triple sec.These are some of the most famous of cocktails. These cocktails have been around for centuries and they remain favorites for drinkers over the generations. Serve them at your occasion to create a lasting impression among your guests.